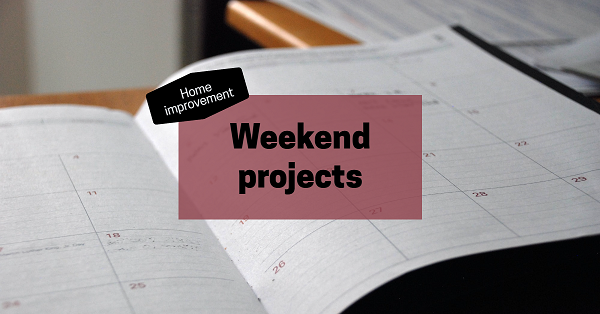 If you don't have time for a major home upgrade, consider tackling some smaller weekend projects to refresh your space. There are plenty of upgrades and renovations you can accomplish in a small amount of time while still making a huge impact.
To help you get some ideas for DIY weekend projects, here are some options to start with:
Living room DIY paint jobs
The easiest way to make an interior more comfortable is to put paint brushes and rollers into action. Add a fresh coat of paint to your walls, or simply paint trim and moldings for a more subtle change. If you're tired of neutral tones, go bold with an accent wall. This allows you to try out an exciting new hue without committing to the entire living room.
DIY laundry room upgrades
Using some basic materials and power tools, you can improve the functionality and style of your laundry room. If you have unused wall space above your washer and dryer, add some floating shelves for simple storage that won't seem bulky.
For a simple space-saving hack, install a retractable clothesline to the wall. Keep clothes pins and extra hangers nearby, and you'll never run out of space to hang dry your laundry.
Paint an easy feature wall
If you have a spot at home you want to beautify, try a high-contrast DIY paint project. Use painter's tape to create your own geometric patterns or shapes and turn a plain wall into a work of art. Panels of color help to highlight focal areas, whether a square, circle or another shape – and can serve as a stylish backdrop for furniture and decor.
Go big with indoor greenery
Greenery in an interior is one of the best ways of boosting your mood and improving mental clarity. Install wall planters in multiple locations arranged above seating areas to create symmetry and add beautiful contrast. If you'd rather not care for live plants, opt for artificial greenery you'll never need to water.
DIY projects for outdoor spaces
One of the best projects for an outdoor space is adding more storage space that doubles as outdoor furniture. Hidden storage built in to benches, seats, tables and other pieces will keep your outdoor areas free of clutter.
This option is especially helpful for small patios or yards where there's no room for a garden shed - simply store items like garden tools with extra storage hidden in your furniture.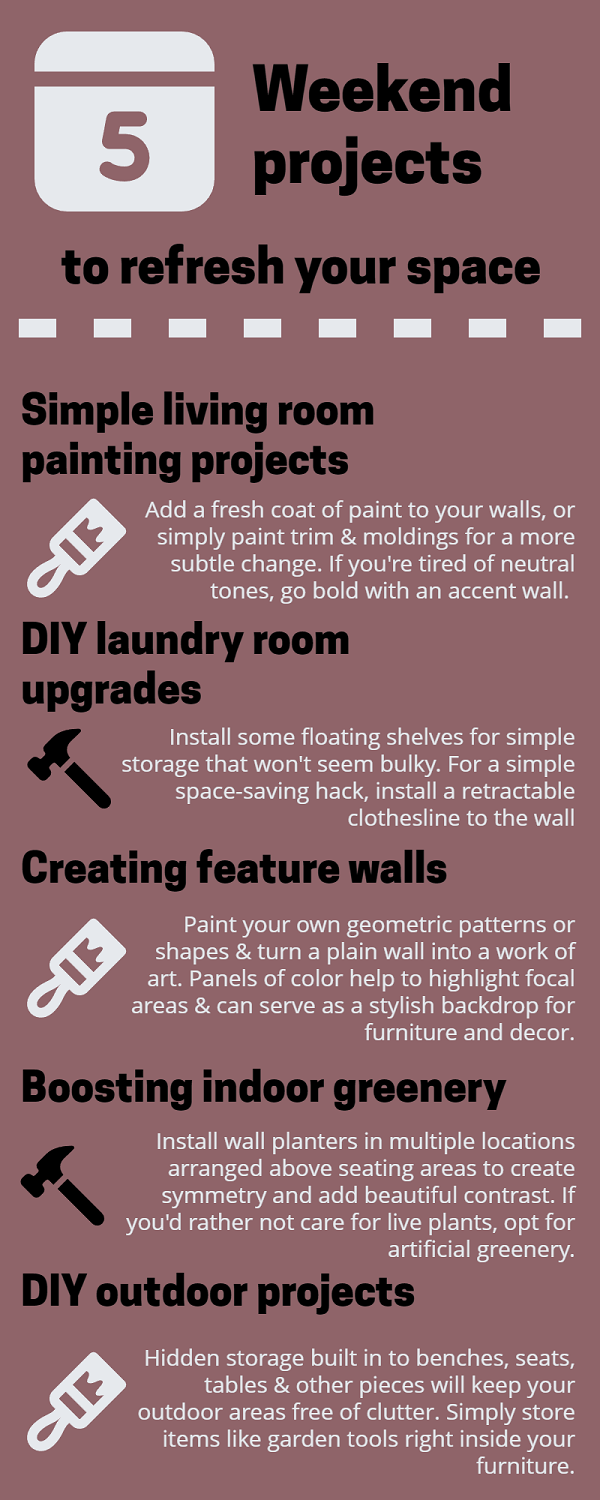 In just one weekend, you can breathe new life into your home with simple home improvement projects. Keep these ideas in mind the next time you want to refresh your space quickly and simply.