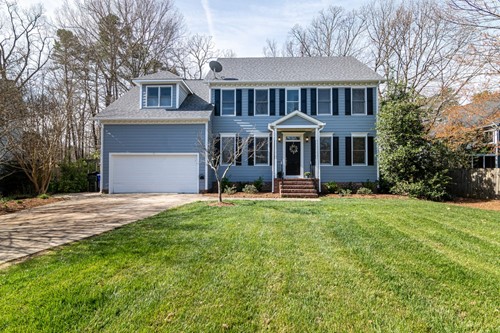 Curb appeal may start at the curb, but your front door is one of the most important factors in a first impression. Changing the look of a front door can change the entire facade of the home and there are many style and decor choices to explore. To update your front door and enhance your curb appeal on a budget, we've put together some quick DIY projects you can accomplish in a single weekend.
Paint the Trim
Giving your front door a fresh coat of paint is a trusted strategy for refreshing your home's exterior. However, painting the trim around the door can have just as dramatic an effect. If you don't want to change the color of your door, try painting the door trim a new color. Doors that match the siding will benefit from trim that adds a pop of contrast. You can also use other colors on your home's exterior to match, such as window trim or shutters. Painting your door trim is an quick project that you can DIY in a single afternoon of dry weather. For your best color choice, try several swatches on the frame to compare and contrast before committing.
Hide Scuffs With a Kickplate
Even a stylish door can show its age through scuff marks and dirt. When a good scrubbing won't get rid of the toughest marks, you can add a kickplate to the bottom edge to hide them while simultaneously adding visual appeal. There are different options of peel and stick kickplates you can buy at your local hardware store or from online retailers. They come in many colors and finishes so you can choose the best accent for your home's entrance. For simple and classic coordination, match the color of your door's hardware or nearby lighting fixtures. This will make the kickplate look like it's been there all along while staying pristine and new.
Add or Update Numbers
Updating your house's numbers is crucial for curb appeal, but it can also improve your front door. If your door has existing numbers, try swapping them out for numbers in a brand new style, color or material. If you don't have numbers on the door, adding them will immediately draw the eye. This kind of upgrade not only looks good but makes functional sense—clear and legible numbers means no more lost deliveries or confused visitors. For the best effect, choose numbers in a high-contrast color or finish with a simple font. Have fun with the style choice and either match the architectural style of your home or go for something brand new.
The front door is the gateway to your home for you as well as visitors. Curb appeal is important, but it's just as important to have a door you'll enjoy going in and out of every day. Make your front door your own with some simple DIY updates and you'll immediately enjoy the functional and aesthetic benefits.